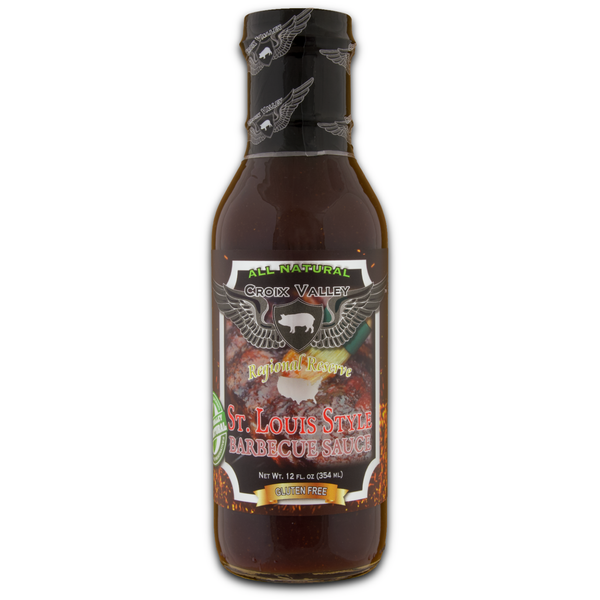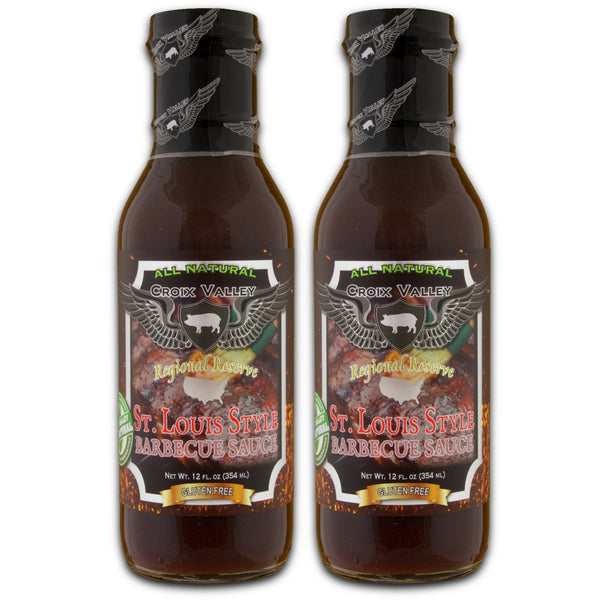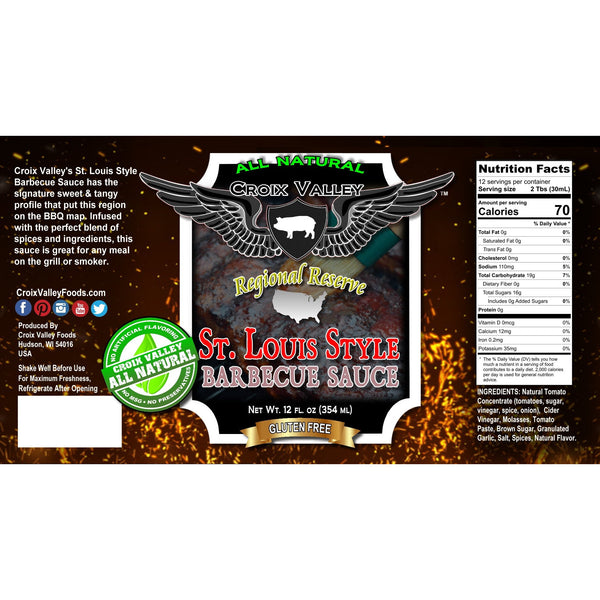 Ingredients: Natural Tomato Concentrate (tomato, sugar, vinegar, spice, onion), Brown Sugar, Cider Vinegar, Molasses, Tomato Paste, Granulated Garlic, Natural Flavors, Salt, Spices.
Get ready for a saucy adventure with Croix Valley's St. Louis Style Barbecue Sauce, takin' your taste buds on a wild ride to the heart of the Midwest! St. Louis, the city of arches and finger-lickin' good BBQ, is famous for its unique sweet and tangy flavors and those oh-so-tender St. Louis Cut Spare ribs. Our sauce is like a flavor party in a bottle, bursting with a brilliant blend of spices and ingredients that'll make any meal on the grill or smoker an unforgettable experience. So buckle up, folks, and embark on a scrumptious trip to one of the great BBQ capitals of the United States, where St. Louis truly sizzles on the barbecue map!
Perfect for Pork Ribs or Shoulders
Excellent for Chicken thighs and legs.
Try all four regional flavors in our Regional Reserve Gift Set!

And check out our food service site for over 40 St. Louis BBQ Sauce meal ideas!
This one is AMAZING
We had it with our ribs and it was so good. Can not wait to try it on chicken. I will be reordering this one.
Best BBQ Sauce
For an all-around sauce for pork and beef, this one is amazing. Ordered some in a sample pack and have come back to it again and again. I'm not sure what a St.Louis sauce is supposed to taste like because I've never been there, but I know everyone who eats it at my Bar-b-q's absolutely loves it!