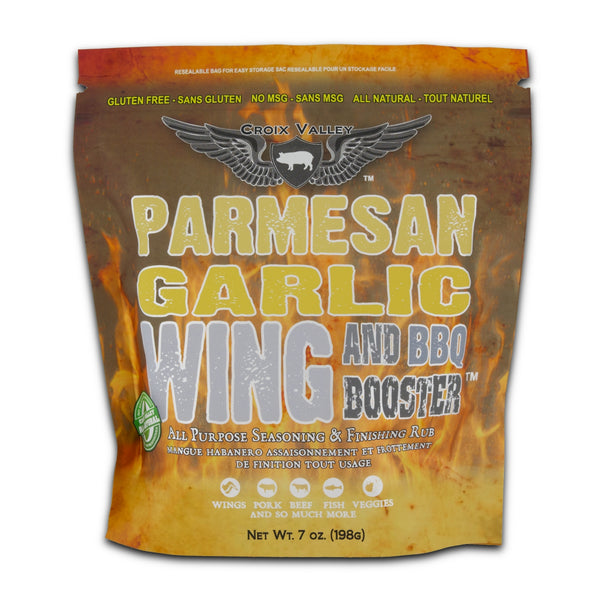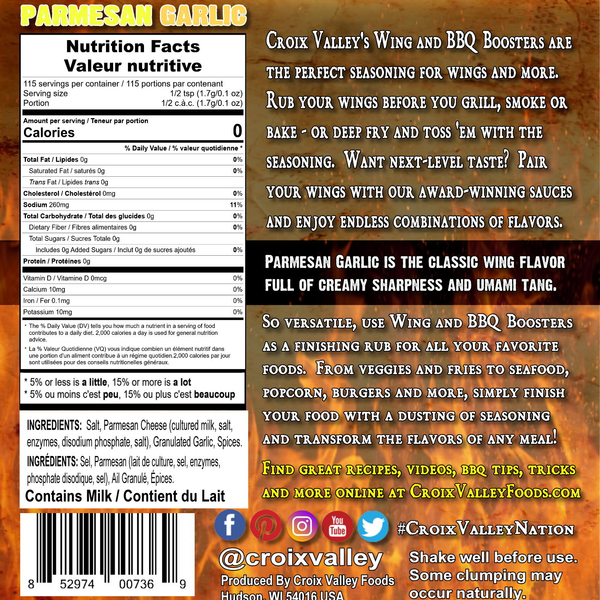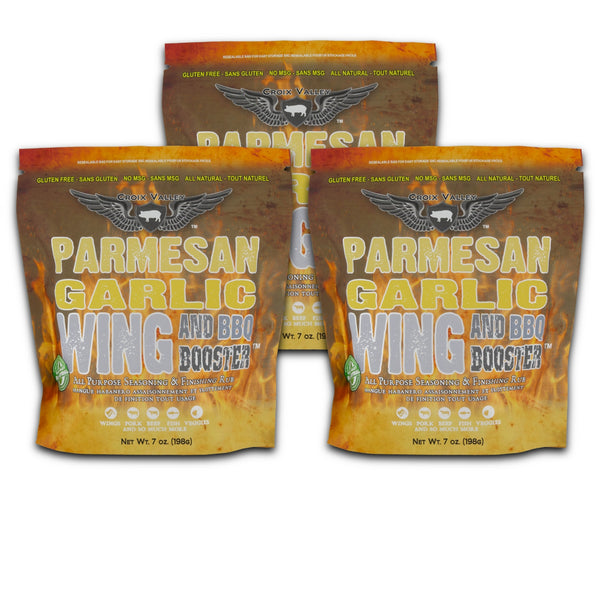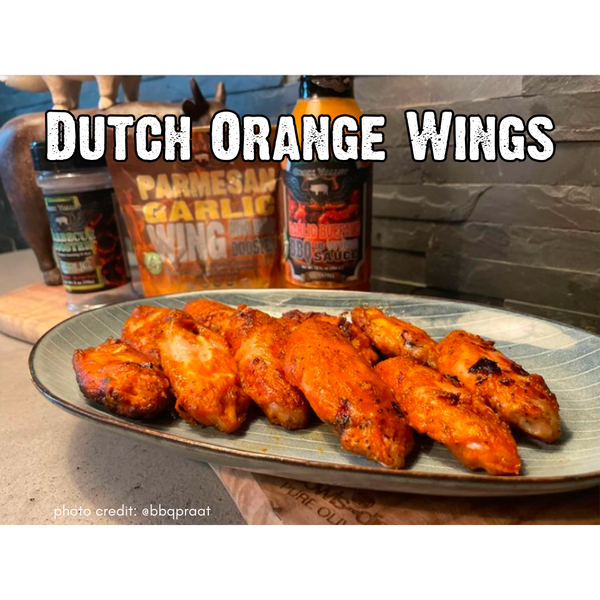 Ingredients: Salt, Parmesan Cheese (Cultured Milk, salt, enzymes, disodium phosphate, salt) Granulated Garlic, Spices.
Get ready to wing it with Croix Valley Parmesan Garlic BBQ Rub!
This classic wing flavor is packed with creamy sharpness and umami tang that'll have your taste buds doing the cha-cha slide. If you're looking to impress at your next cookout, this rub is the secret ingredient you've been looking for. Rub it on your wings before grilling, smoking, baking, or deep-frying, and toss 'em with the seasoning for a flavor explosion in your mouth. Want to take it to the next level? Pair your wings with our award-winning sauces and create endless combinations of flavor that'll make your mouth water.

This rub is so versatile, it's like a flavor ninja that can sneak its way into any dish. Use Croix Valley Wing and BBQ Booster as a finishing rub for all of your favorite foods - from veggies and fries to seafood, popcorn, burgers, and more. Simply sprinkle a dusting of seasoning on your food and watch the magic happen. It's like a culinary fairy godmother that transforms any meal into a flavor adventure! So, get your wings ready and your taste buds primed, because with Croix Valley Parmesan Garlic BBQ Rub, you're about to take flight to flavor town!
All Natural
Gluten-Free
No MSG
First time trying that product
Very good distinct taste. Going to be trying it on diced air fried potatoes next. It was very good on drumsticks
Thank you Cynthia! One of our quick lunches at work is to air fry chicken wings with nothing on them at all, and then toss them in a bowl with the Parmesan Garlic afterward. The flavor is incredible and it couldn't be easier.
It's not just for wings
We just recently bought some of the Croix Valley Parmesan Garlic Wing and BBQ Booster and we put it on popcorn for a really delicious snack. Just one of many ways to use it. Thanks Damon and Lu!
Thanks Tina - and yes! We ALWAYS tell people that the Parmesan Garlic is an easy way to create gourmet popcorn that blows people's minds!
Awesome rub
Great for adding to mayo and sour cream for a dip. Also melt down some butter add a table spoon and toss wings in that so bomb.
Great idea with the dips! We'll have to give it a shot!
Wow!
This stuff is the bomb! It's not overwhelming, just right. We even add garlic and herb sauce on wings and legs. Grandkids love it (and so do we)! Thanks Damon and Lu!!
Amazing and Versatile
This is my new favorite Croix Valley product!
It's fantastic on chicken. It's really good on pork, too. But it is AH-MAZING on Shrimp! Also mixed it into a fruit salsa for a little kick and everyone raved about it.
Haven't met a Croix Valley product that didn't make an amazing dish.